Starting with Stereoscopy issue 1/2007, the journal of the International Stereoscopic Union is now also a truly international venture. Follow us step by step through the production process: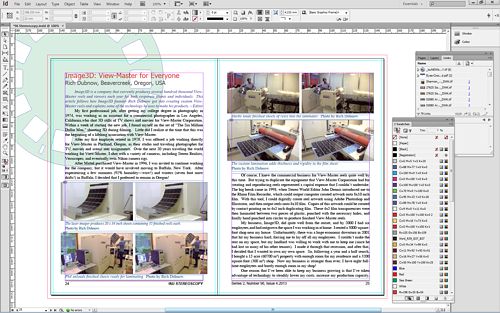 Step 1: Layout Our Editor, George Themelis, edits the journal. He is the one asking YOU for articles and he is responsible for the interesting mix of subjects. Proof Reading is done by Alexander Klein.

For the layout, we use Adobe InDesign CS6, a desktop publishing (DTP) application produced by Adobe Systems. The whole workflow is fully digital, so the location of the printer does not really matter.

Step 2: Printing
The print-ready data, converted to Process Colors (Cyan, Yellow, Magenta & Black), is sent to Germany as a pre-press-ready pdf-file and uploaded to our print partner, Häuser KG.

Häuser KG is a family-owned printing company and is located in Cologne – Germany's fourth-largest city after Berlin, Hamburg and Munich, and is the largest city both in the German Federal State of North Rhine-Westphalia and within the Rhine-Ruhr Metropolitan Area, one of the major European metropolitan areas with more than ten million inhabitants. It is one of the oldest cities in Germany, having been founded by the Romans in the year 38 BC. Cologne was granted the status of a Roman "city" in the year 50 AD. Cologne lies on the River Rhine. The city's famous Cologne Cathedral (Kölner Dom) is the seat of the Roman Catholic Archbishop of Cologne. The University of Cologne (Universität zu Köln) is one of Europe's oldest universities.
Häuser KG double-checks the data, and does a direct output from the computer to the printing plate by a Fuji T6000. This process, called "Computer-to-Plate" (CTP), produces best quality without any interference during film exposure, assembly or printing plate copying. To obtain a finer print result for the images, they use a FM raster (frequency modulated, also known as "stochastic screen").
Our printer uses the most modern sheet-fed offset presses by Heidelberger Druckmaschinen AG – among them the Heidelberg CD 74-8PH, which is a high-performance offset press with a 520 x 740 mm (20½ x 29 in) sheet format for flexible and cost-effective print production, with a maximum rated speed of 15,000 sheets per hour.
For the cover, we use glossy paper, 300 g/m², to which a glossy lacquer is applied. For the contents, we use glossy paper, 115 g/m². We stopped using laminating foil for the cover for environmental purposes.


Step 3: Envelope Stuffing and Addressing
After stapling and cutting, the journals are sent from the printer to the ISU Treasurer in Stuttgart, Germany, who puts them in protective paper envelopes. The mailing-address is printed on the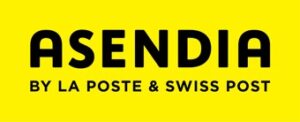 envelope using a high-speed RENA DA606 address ink-jet printer. Then the envelopes are being sorted according to mailing-zones (Germany, Europe (EU), Europe (Rest), USA, Rest of the World), boxed, and shipped with the appropriate paperwork to Asendia for worldwide delivery.
Asendia is a global joint venture in cross-border mail combining the expertise, systems, networks and products of La Poste (France) and Swiss Post. The journals are sent to their destination countries by First Class Mail.
Since the Journals are sent First Class Airmail (Prioritaire), they should reach ther recipients within ten days of mailing.


Step 4:
Enjoy reading your Journal – and get excited about stunning 3D-photos. All in Full Color!
And never forget to send interesting articles for publication to your Stereoscopy Editor – it is all a joint effort to produce a high-quality journal at a very affordable price.