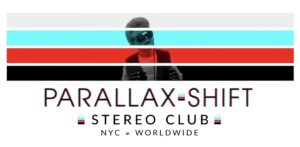 The PARALLAX-SHIFT Stereo Club is committed to reinforcing the tenants & truths of stereoscopic communication through its active practice & study, continued explorations and through the preservation of its collective history. Although they have been operating as an independent stereo club since their official inception on National 3-D Day on March 21, 2021, they officially organized as a Stereo Club in the summer of 2022.
The PARALLAX-SHIFT Stereo Club holds a variety of free public facing 3-D events & members only workgroups in NYC. The club also produces a variety of informative and entertaining 3-D & stereo related online programming.
The PARALLAX-SHIFT Stereo Club currently serves the NYC area & will be extending a tier of membership opportunities to the worldwide community in the Fall of 2022.
Meeting Locations
New York City, Online Platforms
Meeting Season
Year Round
ISU Club Representative
Ilicia Benoit
parallax.shift.stereoclub@gmail.com
Website
https://parallax-shift.com